Post by Heikonyan on Apr 18, 2017 19:27:48 GMT
Sign ups open tomorrow (April 19th) at 7 PM BST Thursday, April 20th, 6 PM BST. Any sign up before that will be ignored.
Time and Place
Round 2 starts Saturday, April 22nd.
We will go to Indianapolis GP for Round 2.
Qualifying will aim to start at 7PM, but I will wait until up to ~7:15, so please be on time. There's more than enough people interested, so I will fill your spot if you're late.
Yes, lobbies take a long time to fiddle with, please be patient if we need to wait for people and/or settings.
Rules
Anyone that joins without permission
will
get kicked! The first 23 sign ups are free to join off me though, since they'd get in with priority anyway.
A word of warning: You all already accepted the
Rules and Regulations
by signing up. Any breach will be punished, if deemed necessary. This includes the Livery Rules, so make sure your car is painted correctly! Pro tip: Read them again, if you're unsure, there were a few small changes over the course of the board being up.
Track Limits
I will say this in lobby chat again as well, but as buggy as it is, here it is in written form as well:
Indianapolis has very clear track limits for the most part, defined by solid lines on either side of the circuit. More than two wheels across means that you're breaching the track limits, multiple offenses will grant a penalty.
This will be handled similar to the V8 Supercars: You have 3 "kerb hops", or lives if you will. So you can run over track limits up to 3 times without punishment. If you cut a corner massively to gain an advantage, that system does not apply.
Cut a corner massively, or use up your "lives" and you will receive either a position penalty, or a virtual drive through! (see:
Penalties
)
There are exceptions, seen below. These are the absolute maximum you can go across which I will tolerate:
Thanks for that map Demon, didn't find the right one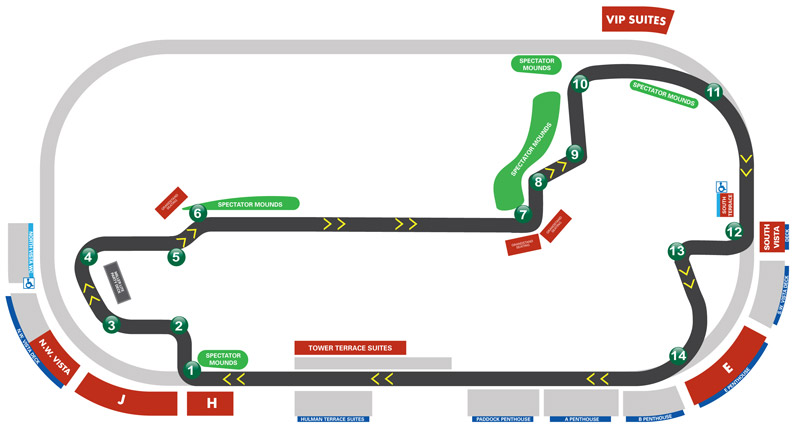 Turn 1 - inner wheels still on the kerb, outer wheels still off the kerb
Turn 7 (off the back straight) - inner wheels still on the kerb, outer wheels still off the kerb
Turn 10 (into the first part of the oval) - inner wheels are allowed to be off the kerbs, outer wheels a tire's width away from the white line
Turn 12 (off the oval) - outer wheels only just off the kerb
Turn 14 exit (onto the main straight) - inner wheels not over the white lines
And lastly, please note the change made to the penalty system. Anyone who drives like an idiot and causes incidents will face heavy punishment.
You have to sign up using your racing number!
Sign ups:
Language vX
Sui305
InvisibleAK47
aRandomDemon
StaticSh33p
THR Mugen
ChattyBeast
Lgamer575
Rubber Trail
Lone Variant
Gijs571
Thecreator224
aa40nmcgrath
impega1957
TwoDustyMustang
PTG Muiry
P1eased0nteatme
AoB Bassline
Westmeister00
RagingRedRabbit
Flying potatoo
Stevie1055
Raregliscor1
Reserve:
F1 K13RAN596JB
Hash Brown 022
time2diezombie2
BumpyD
LM145
Zaarsr